A Different Kind of Festive
Christmas in Mojacar can feel a wonderfully low-key affair in comparison with the UK. Even for those of us that love Christmas, I'm sure we can admit to feeling a little stressed or burdened at some point during the festive season by the additional pressures put upon us. Whether it be for taking on too much, being underprepared, navigating family logistics or a number of other reasons. The feeling of pressure at Christmas time isn't quite the same here. The television isn't spammed with adverts making you feel like you're running out of time or that you have to have the perfect display of food or picture-perfect tree. There are many people who revel in the festivities and all the traditions that go along with it, a Christmas in the sun doesn't appeal to everyone, it's true that when you're used to spending the festive season in the UK it can be a bit of a challenge to make it feel 'Christmassy' here.
Whilst we're usually still lucky enough to experience a mild enough climate to sit outside, should you wish to visit the beach you'll find it very calm and quiet, with dog walkers and a few picnickers dotted along the beach.
Christmas on the beach is not a tasty cocktail but it surely could be one because it's so much fun
The main day of festivities here for the Spanish is the Three Kings festival which is where gifts are usually exchanged, it is a big day for celebration. Occurring annually on the 5th of January the festival takes place in the evening with a parade, each time the general display will be different but the theme remains the same with the parade all showing the Three Kings arriving. Many of the local people and children get involved in the parade, each town of relevant size usually has their own parade. Traditionally people shower sweets, throwing them from the parade cars for the children to gather, you may even spot people using umbrellas to shield themselves!
Generally speaking, there appears to be a lot less focus on the gifts here it seems much more about family time and good food. The culture in general doesn't seem so focused on material objects, which I believe is the case because there is more of an outdoor lifestyle. With an abundance of beauty in the natural world and a pleasant climate to go with it, meaning we have plenty of time to enjoy it too.
I guess it is always different when viewing somewhere through an expat lens, we can perfectly understand the culture in which we are born into but our interpretation of culture with regard to another country – especially living in an expat area will be somewhat distorted.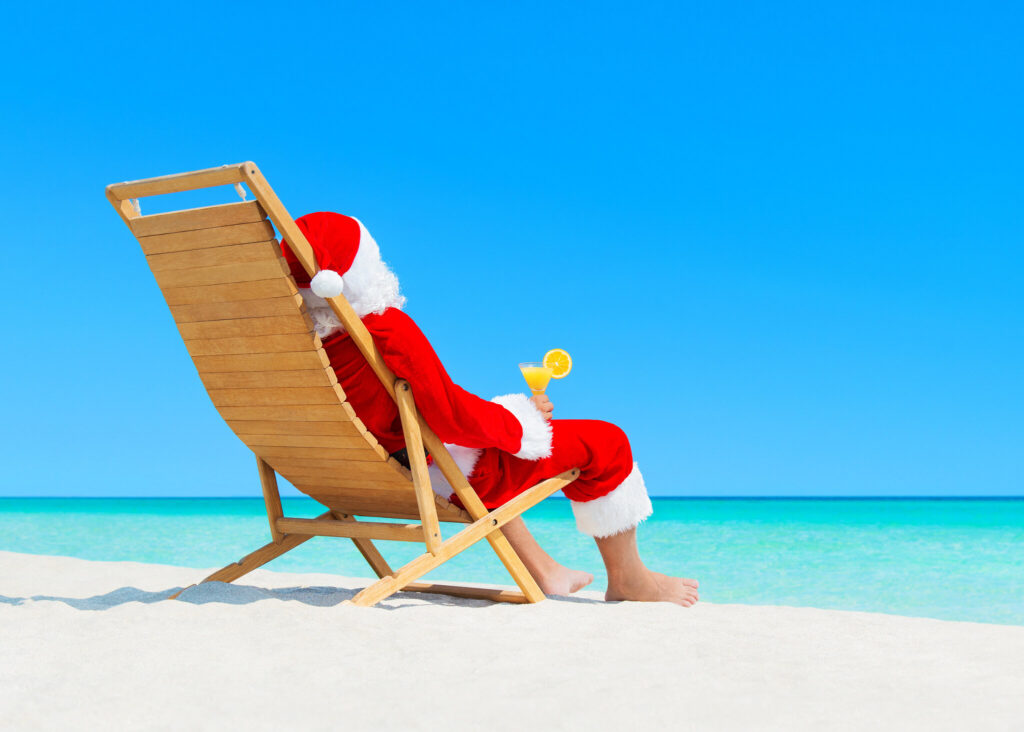 Santa taking a well deserved break at Mojacar Playa
What can I look forward to spending Christmas here? Well, there are many festivities you can join in with here but without the hustle bustle of what we can be used to in the UK, you generally won't struggle to park or get caught in rush traffic to get anywhere or do anything around here!
Often little skating rinks or toboggans pop up dotted around the different towns providing lots of fun for adults and children. Of course, the Three Kings parade as mentioned above taking place on January 5th, however, it's worth bearing in mind it rarely ever starts at the specified time – though if you want to get a good view it's a good idea to get there with time to spare. Many places in the squares or public areas will also have nativity scenes, called Belens (the Spanish word for Bethlehem.) Belens are incredibly popular within Spanish homes on a much larger scale than our traditional manger set up with a few figurines!
Of course, a huge thing here is 'El Gordo' this snippet from The Culture Trip tells us all about it; 'The Spanish National Lottery is a big deal at Christmas time, and almost everyone plays it, making it the biggest lottery draw in the world. The Christmas Lottery is so big that it has been given the nickname 'El Gordo' or the 'Fat One', because of the huge amounts of cash you can win. Taking place on December 22, it has been held every year since 1812, and the winning numbers are sung out by school children.'