A Day in Oasys Mini Hollywood
Cue the queue! The park ran a special offer and there were lines of people right back to the car park at the roadside entrance, and this goes without saying, but I'm going to anyway – it's hot, super-hot. With up to two children free with one paying adult it was a decent deal, no wonder it was so busy and during summer holidays too, phew!
It would be worth recommending at this stage to take adequate water and remember your hat and sun lotion (you'd be surprised how often these essentials get forgotten around here… my friend does it all the time.) So, there's a little heads up for free so that you aren't stuck in a long, hot queue with thirsty, hot kids. You're welcome. Another top tip would be to meet friends there and arrive late yourselves so that when you do get there you can meet them near the front of the queue, apparently.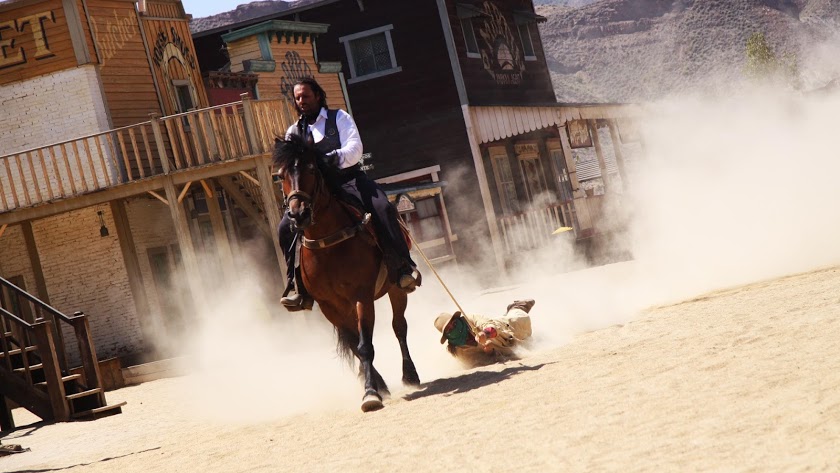 if you misbehave the sheriff will catch you and drag you to jail
With timetabled shows throughout the day there's always something to watch, a parrot show, a cowboy shootout re-enactment and a can-can show. Young kids will watch the re-enactment filled with suspense and questioning whether the men are fighting for real or just pretending! The show itself is entertaining and done really well, the whole movie set is incredibly realistic and like being transported back in time. You find yourself wandering into the saloon, checking out the outfits, the décor and wondering if the cowboys then knew how cool they were! You used to be able to have old style western themed photos taken but I believe this has temporarily stopped in line with current covid safety measures. The can-can show is also mesmerising and not just the skirts are lifted but the spirits in the place are too with the jolly music and colourful performance!
The park itself is huge and though there's a mini train that takes you around the top of the park, if you have little legs in tow it may be a little taxing – consider bringing a pushchair for any 3 and unders! There are several steps to access different parts of the park too since it's spread over different levels, adapting to the natural surroundings and to accommodate the different animal enclosures etc. There's a whole variety of animals to see and in the environment with the backdrop it's a spectacular sight to behold. The whole place has been well thought out and there's certainly plenty there to fill a day.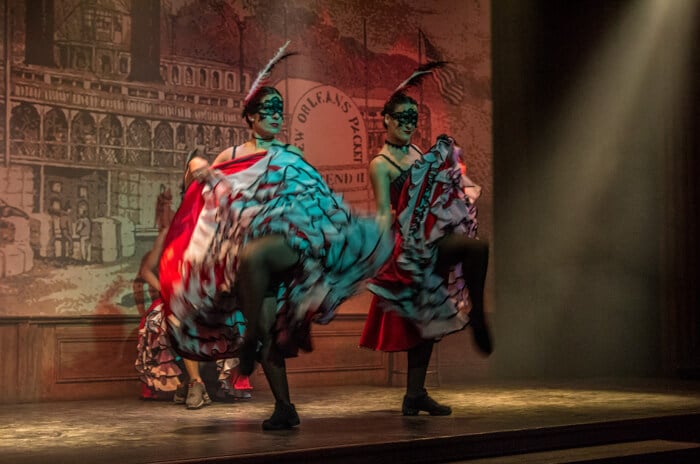 not just skirts are lifted here
You can take your own picnic or eat in there; you have the option to add on the buffet to your ticket price at the entrance. The buffet is in a large dining hall and is self-serve, you can typically expect offerings such as, paella, pasta, pizza, meat, vegetables, hot dogs etc with an impressive array of desserts for afters! This option works equally well if your children are fussy or if they're good eaters, since they can pick and choose what they want and how much of it too. What kids don't like slushies? Once you've pounded the pavement for a long time and you're all hot and bothered, reaching the slushy machine is a welcome stop! With reasonably priced iced drinks in containers with a lid and straw with many flavours on offer you can't really go wrong!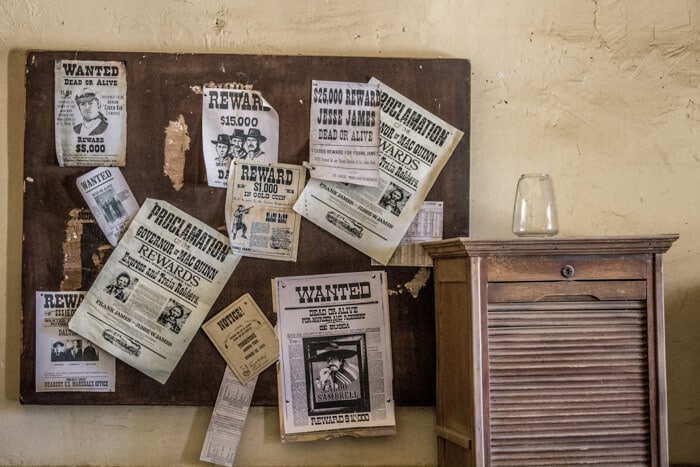 check quickly to see if you're not Almeria's most wanted
Once you've seen the shows, the animals, walked round the park, used the pools and had lunch it might just be time to head home! Not forgetting the gift shop, disclaimer if your children like toy weapons do not enter. It's a little kids paradise when it comes to toy cap guns, holsters, sling shots, etc. The shop is also home to some beautiful dream catchers, gifts, decorative items and Indian headdresses. Top tip; They also have hand held fans here and sun lotion, so don't leave the gift shop until the end if you do get caught short!
To summarise, we love Mini Hollywood and it's a great day out with the kids that has a little of everything. It can seem a little on the expensive side but it's a major area attraction and so it's to be expected, not to mention the upkeep of the place can't be cheap and they aren't open all year around. If you haven't been before we encourage you to take a trip to Tabernas and see what all the fuss is about for yourself.